About Us
Lapel-Pins-Source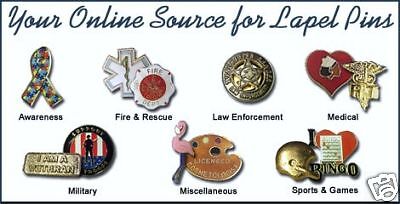 Welcome to our on-line store.
We specialize in a great selection of professional lapel pins for, graduations, hospitals, nursing schools, colleges, fund-raising events, sports teams, events, rank insignia, collar devices, Sheriff Departments, Police Departments, Security Officers, recognition ceremonies, schools, cancer awareness walks, many causes, special interest groups, and we can custom design a pin that will promote your business too.
Our Cancer and Cause Awareness pin tacs come in many colors, styles, and themes. Perfect for collecting, trading, and inspiration as well as promoting awareness for your favorite cause. Fund-raising and large quantity discounted available.
Medical pins are professional grade and superior quality that are ideal for nurses, doctors, veterinarians, technicians, EMT's, EMS staff, various departments, units, facilities, nursing homes, adult care communities, clinics, laboratories and many other medical professions. In stock and custom design pins are offered to departments at discounted prices.
Law enforcement official regulation pins, rank insignia, collar devices, custom design badges with many catch and back options, cloisonné, nickel and gold plated. In stock, custom design pins and badges are offered to departments at discounted prices. Great selection of pins for Police, Security, Sheriff Department, and other law enforcement departments.
Emergency Medical Service official regulations pins, rank insignia, collar devices, custom design badges with many catch and back options, cloisonné, nickel and gold plated. EMS, EMT, Fire Department, Rescue Squad, Ambulance Companies, Medical transports in stock, custom design pins and badges are offered to departments at discounted prices.
SHOP WITH CONFIDENCE
Customer Service: Monday – Friday 10-5 EST
Call Toll Free: 1-888-874-6463
Email: info@lapel-pins-source.com
Please sign up for our newsletter so we can inform you of sales, promotions, group discounts, free fund-raising ideas that will make money for your favorite charity or organization.
We offer custom pin orders of 50 or more, custom embroidery and many others services.
Theresa Adams and Twila Camden are proud to be sponsors of the American Cancer Society's Eastern Shore's Nandua Relay for Life, The Elks Lodge, Loyal Order of Moose, and the Eastern Shore's Medical Assistance Fund. We donate to non-profit organizations for Cancer and Cause Research. More sales mean larger donations to our charities. We appreciate your business and support.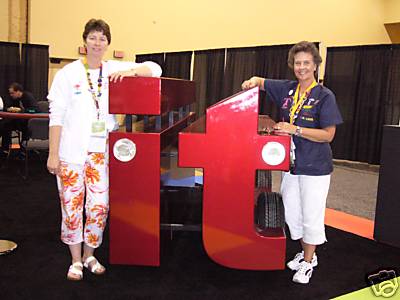 Together We Can and do Make A Difference!We Save Lives!
Please help us to support our cause!
Sign Up For Our Newsletter Today!
Don't miss new arrivals!
Favorite Links
http://stores.ebay.com/Indian-Trails-Trading
**************************************************************************
We are Sister in Laws. Theresa had Breast Cancer in 1995 at age 40 and we are very active in the Relay For Life. Our entire family is very involved; from the fundraising to the actual walk. We want our customers to know that fighting to find a cure is a big mission for both of us. We strive to help find a cure for all cancers and are very active volunteers. Theresa is Chairman of the Survivors Event. Relay for Life Survivor Team Captain and has been a Nandua Relay Committee member for over 20 years. Twila is on the Board for the Eastern Shore Medical Assistance Fund and Elks Club. She is also an officer for the Local Lions Club. Theresa and Twila are also members of the Loyal Order of Moose.
We are currently designing our own line of awareness and medical pins. We will gladly design a custom pin for you. If you have a special fund raising event and need promotional items, cancer and cause awareness pins and jewelry available in an array of colors. Group and fund raising discounts available. We can help with fund raising ideas as well and can be contacted toll free at 1-888-874-6463.
Twila was a one on one ABA therapist to children diagnosed with Autism and worked in that field for 20 years. She joined our family construction business as well. She has a vast collection of Flamingos and loves original art work, old and new glassware, pottery, decoys and collectibles.
Email us at: info@lapel-pins-source.com
Call us Toll Free: 1-888-874-6463.
Email: info@lapel-pins-source.com, theresacadams@yahoo.com or twilacamden@hotmail.com for Cancer and Cause Items, fund-raising pins, medical lapel pins, law enforcement, security, professional lapel pins, and embroidery.
We truly appreciate your support and are always open to suggestions and ideas from our customers. Your feedback is important to us. We love hearing from our old customers and look forward to hearing from new ones.
We are located on the beautiful Delmarva Peninsula surrounded by the Atlantic Ocean and the Chesapeake Bay. Virginia's Eastern Shore is a very rural area. Selling on line has made a big difference in our lives. We sell all over the world and love new customers. We always strive to make our customers happy and satisfied so they will visit again and again. We offer a 30 day return policy and stand behind our products. We give discounts when shipping multiple items. We believe in what we sell.
Again, we appreciate your business and support in fighting for the cure. One in 8 women you know will contract Breast Cancer....Scary... Prostate cancer is not as easy for men to talk about but they are beginning to wear their ribbons too. A big step for them. My dad wears his colon cancer attire quite often. Thanks again and we look forward to hearing from you soon. Email Twila direct at twilacamden@hotmail.com or Theresa at theresacadams@yahoo.com.
If you have stories you would like to share we would love to hear them. Theresa gets many cancer related emails and answers each of them personally. A true part of healing is helping others to get through the hard times and to share the good times and memories.
Theresa's & Twila's Tips:
Get regular checkups and do self exams. Nobody knows your body like you do. Schedule your mammogram, PSAT Test, and ladies please ask for a vaginal ultrasound for ovarian cancer screening.

Use technology to research your disease and possible treatments. Call 1-800-4-CANCER, ask for help to formulate the best questions to get the best answers from your doctors. Use the internet, but have someone be your researcher because this is very time consuming. The key is to educate yourself about your disease.

You have to fight for the best treatment and care. Do not consider yourself a statistic. You have choices....choose to be POSITIVE! A positive attitude has everything to do with it! Choose to make the most out of any situation, but don't beat yourself up if you have a bad day. Forgive yourself and go on. Wrap yourself in a blanket of love provided by family and friends. Allow others to take care of you so you can take care of yourself.
Have Faith, Hope, Strength, Courage, and Love!! Never lose your faith. Never lose hope and believe in prayer. Believe in miracles!!!!!
EARLY DETECTION: DO YOU KNOW THE FACTS?
Each year, 182,000 women are diagnosed with breast cancer and 43,300 die. One woman in eight either has or will develop breast cancer in her lifetime. In addition, 1,600 men will be diagnosed with breast cancer and 400 will die this year.
If detected early, the five-year survival rate exceeds 95%. Mammograms are among the best early detection methods, yet 13 million U.S. women 40 years of age or older have never had a mammogram.
The National Cancer Institute and U.S. Department of Health and Human Services recommend that women in their forties and older have mammograms every one to two years. A complete early detection plan also includes regular clinical breast examinations by a trained medical professional. Monthly breast self-exams are suggested in addition.
Gentlemen you can contract Breast Cancer too. Inform your doctor to do breast exams when you have your checkups.
We send our prayers of good health to your family, friends, and loved ones.
God Bless our Troops and other agencies that are keeping our country safe.
Fondly, Theresa & Twila